Official Selection Santa Barbara International Screenplay Awards 2021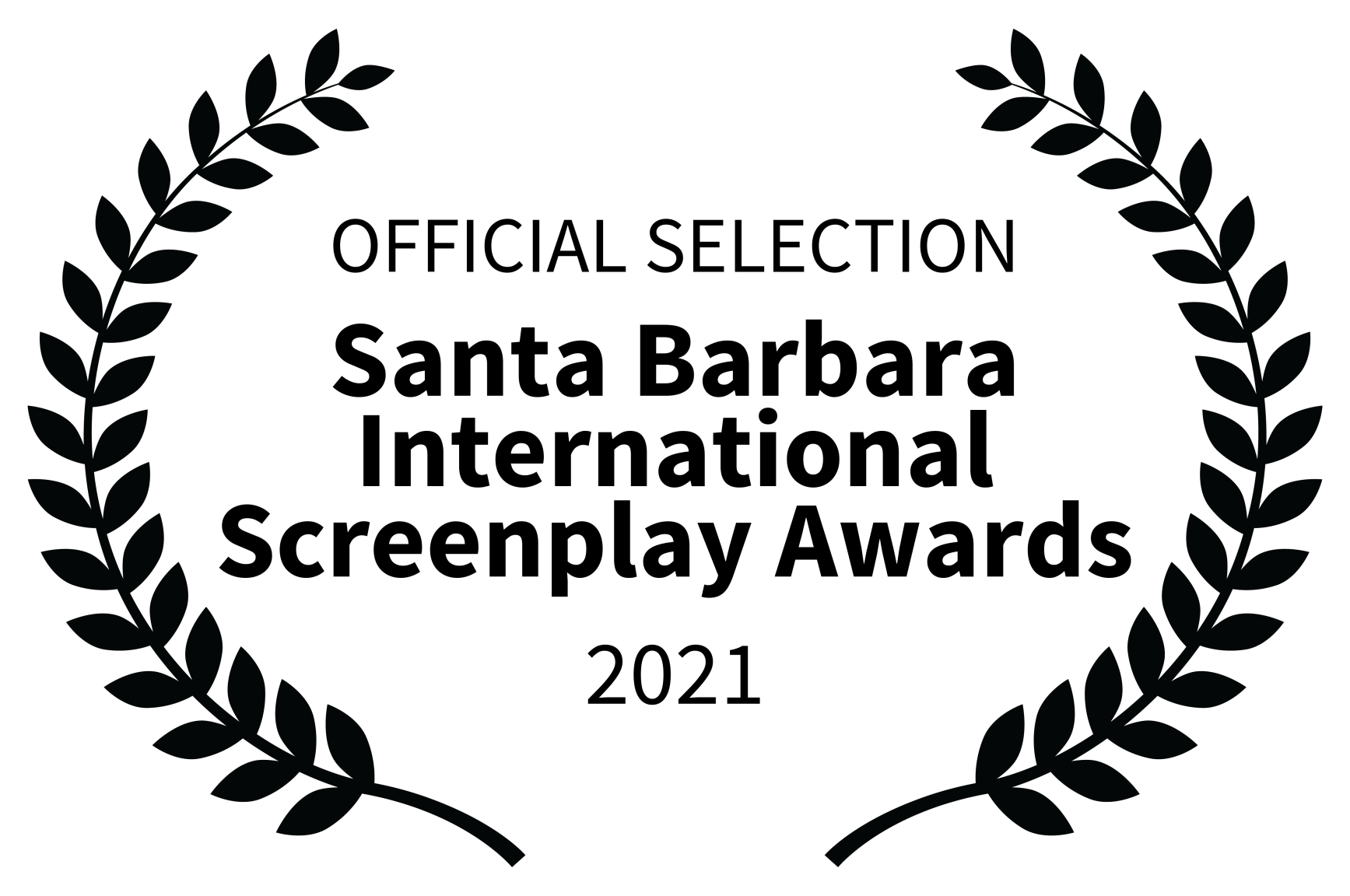 ---
Coverage, Comments and Endorsements
Comments from Jason Piette, "Disrupting Influence" founder and executive producer.
This is a racy blend, focusing as it does on the highly charged sexual attraction for and manipulation by Virginia of her slave, John Casor, whilst painting an early mixed-race society in the Virginia colony soon to disappear, with its black landowners and gentry class, itself owners of indentured slaves such as Casor. The unexpected twist in the tale, where Casor effectively chooses lifelong slavery over his indentured servitude to a cruel and manipulative landowner, in order to find love and freedom with Virginia, is ingenious and works well.
The concept is strong and the turning of what is thought of as a tragedy - Casor's enslavement for life - into a choice John makes for the sake of his love for Virginia, is a really positive stroke. The portrait of an idyllic love life between owner and slave is brave and moving material, and the mix of historically accurate material and fun, sex play is fresh and cool.
The two main characters, John and Virginia, are brilliantly drawn…the dialogue is bright and characterful throughout.
The movement of the growing love between John and Virginia in the second act is fun and strong, leading to the end of Act crisis as John seeks and gains freedom from Anthony, only to find himself in true brutal slavery.
The commercial prospects are strong, though the sexuality in the film tends to make it more likely a contender for the streamers than for theatrical through traditional distributors. If we can get closer into the field of inner desire and wants of our two main characters, the piece can be a powerful proposition to audiences and distributors alike.
Jason Piette, "Disrupting Influence" founder and executive producer.
Comments from Nelson Cole, Story Executive at Energy Entertainment
"The writing is amazing and extremely informative. I actually thought the characters and dialogue were both amazing. You have all the skills in the world. John Casor is fetishized [by Virginia], but the movements are realistic and entertaining. You also have a very strong and necessary arc in Anthony's character as Virginia's father."
---
---
"I AM VIRGINIA" Coverage: Julia Verdin – Rough Diamond Productions
The Favorite meets 12 Years a Slave in this gripping period drama, revolving around the ascent, then gradual descent of John Casor's fight for freedom.
You have encapsulated the time period perfectly here and provided your characters with very regal and eloquently spoken lines. Well done!
The era of slavery during the 1600s is hardly touched upon in film, so there is originality to be found in that. There are also new themes in this that, arguably, a lot of audiences wouldn't know about, such as black land owners during the time period, along with indentured servitude over slavery.
If the right talent were attached, this could do well.
---
"I AM VIRGINIA" Coverage: Screenplay Readers
An engaging historical drama, "I AM VIRGINIA" benefits from its focus on a unique and unexplored area of American history as it delves into the earliest origins of slavery.
Though John Casor is a historical figure, the story does not follow the traditional structure of the bio-pic and instead offers a strong focus on its characters and a love story that subverts the conventional depiction of historical figures. Instead of a stodgy costume drama, we are given an honest and provocative depiction of sex and youthful abandonment.
Equally intriguing is the exploration of the role free blacks played in the early days of the slave trade, for Anthony, a black slave owner, is no abolitionist and there's an irony in the fact that the lovers' happy ending is entirely dependent on John being legally declared to be Anthony's slave.
Virginia's awakening to the hypocrisy of the colony she was named for is a strong character arc and the action scene involving the Pamunkey is vivid and well-conceived.
The various legal proceedings are a fascinating aspect of the story and represent the moment when the characters affect the course of historical events.
Overall, "I AM VIRGINIA" is a unique and ambitious historical drama that shines a spotlight on an untold era of American history and, despite the historical setting, has modern appeal thanks to its exploration of gender and racial politics.
---
Comments:

"From racy to rage to verklempt, I AM VIRGINIA grabs your sense and sensibilities, opens your heart to the possibility of together and then crushes your ethical view of our past. This will be a must watch, share and discuss movie."

-- Bradley L. Bartz, Producer
---
Story Background by Giovanni Vines:
"I Am Virginia" is a fictional narrative, based on the true story of Casor's relationship with his master, Anthony Johnson. I made an attempt to follow the historic account as much as possible. However, like all 400-year-old historical accounts, there are a lot of gaps that are not accounted for.
The most reliable facts concerning this story are archived in a book called, "Myne Owne Ground", written by historians T.H. Breen, professor of history at Northwestern University, and Stephen Innes, professor of history at the University of Virginia. This book recounts the phenomena of the dozen +/- African-born landowners who were a part of the Northampton community throughout the seventeenth century.
As it so happens, the County of Northampton, Virginia has some of the most complete and oldest historic records of judicial proceedings of any county in the U.S. In the case of Anthony Johnson, there is a good bit of reliable information about him available via these records by virtue of the fact that Johnson was in court a lot.
So, the portions of the screenplay that deal with legal matters are fairly accurate. Modifications are only made in order to fill in the gaps where information is missing, or to accommodate the narrative.
The screenplay takes historic license with respect to Johnson's daughters and their relationship with John Casor. Johnson had two daughters, about which we know very little. On the day the 20-year-old (+/-) Casor arrives on their plantation, these two girls are teenagers. At this time, there is a dearth of Africans in Virginia, representing only about 1% of the population. At least half of these 300 Africans are servants/slaves. It is difficult to imagine that there would not have been some affinity between Casor and these two young women.
So, one of the story lines told throughout the screenplay concerns the fictional love relationship between John Casor and Johnson's oldest daughter, Virginia. It is a provocative relationship. Virginia, in many ways, is a metaphor for the Virginia colony, and the hope of racial integration and personal freedom that existed there during the time window, 1630-1670.
Throughout the screenplay, I have pulled from historical accounts whenever and wherever possible. For example, the formation of the slavery cabal is based on the history, as far as possible. We know that Johnson's farm was burned down. We also know he soon packed up and moved to Maryland, along with his two sons. Nobody was ever charged with arson, but it's pretty clear that the fire was set by arsonists.
We also know that at one point, around 1648, Johnson formally discharged John Casor from his servitude in writing. We also know that, three and a half months later, Johnson went back to court and argued, successfully, that John Casor was legally his slave and should be returned to him, which he was.
The historic record also reveals that, after the entire family ultimately relocated to Maryland, sometime after 1655, that John Casor moved along with them. There are some Maryland records showing him owning some property; a few animals, if I recall correctly. Interesting that a man who was legally a slave winds up owning property in Maryland and has a Maryland county officially record his ownership of property.
"I Am Virginia" has a dual purpose; to inform and to entertain. As a dramatist, I have attempted to write in a provocative manner, in order to invoke reactions from viewers/readers. This is a significant piece of colonial American history and is a story worthy of sharing.